Giving Your Soul a Window to the World with Successful Cornea Transplant Surgery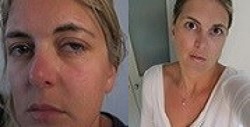 Shelly
(Australia)
"Eyes are the mirror to the soul and a window to the world around you". This is a well-known fact with because eyes are one such organ of the human body through which the world sees your innermost character and you see the world around you. But what if anyone loses this window between the soul and the world? What if anyone loses his or her eyes? What if anyone gets to see just darkness around with no hopes of light?One such case of lost eyes was found far away in Australia where a 29 years old female was suffering damaged cornea due to a car accident.A newlywed couple in Australia, Shelly and Garvit went for a long drive one fine evening. They were enjoying their wedded life and celebrating their love amidst the chilly and windy evening and all of sudden, their car crashed into a luxury travel bus.
Thankfully, both the lives were saved but Shelly lost her vision because in the accident her cornea was damaged. At that time, she received immediate treatment from at the emergency department of a nearby hospital. A few weeks later, when Shelly visited the consulting doctor, she was recommended to go for cornea transplant because that was the only option left. Cornea transplant is also known as keratoplasty and is a surgical procedure that removes the injured cornea and replaces the same with healthy tissues from organ donor.
Her husband was worried and a bit confused as to which doctor to rely for cornea transplant. Then he started researching on the web for the best eye specialist dealing into cornea transplant. While browsing and researching on the web, Garvit came across India Organ Transplant website and read all the reviews and testimonials to understand and know more about our transplant organization. He found it impressive and was somehow convinced to contact the company. He filled the enquiry form and connected with us. With an immediate response, our coordinator reverted with a thank you note for contacting. Further discussions rolled on and on and all medical reports shared with us through email. Our team of doctors and experts further reviewed the reports and discussed the same with top eye specialists of India for their respective clinical recommendations.
We then send across an email stating multiple recommendations of renewed eye specialists in response to Shelly's eye condition. Garvit was more concern about the organ donor because he was not sure about when and how early the transplant can be done. Our coordinator who was constantly dealing with Garvit convinced him empathetically explaining him all the essentials and details of cornea transplant and about the procedure of registering for the waitlist period. He was so satisfied with the daily communication and he did not further think about anything and registered her wife's name in the waitlist period for the organ donor.
Garvit was put on call until four months when a family in India lost their precious son aged 25 years due to severe infection in the liver. The family stood ahead to display their heroic character and were willing to donate their son's eye as an initiative to help people in need. In the mean time when the doctors were preparing to perform the surgery to extract the organ from the body of the demise within an optimal time span of 6 to 8 hours, our team was constantly in touch with Garvit to make travel arrangements for them. They already had applied for a medical visa to India in advance to ensure that there are no hurdles at such an important time.
The next morning Garvit and Shelly travelled to India and were greeted warmly by our team executive who brought them directly to our associated eye hospital. Both husband and wife were given some resting time before personal consultation with the doctor was supposed to do the transplant. The doctor explained him every aspect of the surgery along with the risks associated and the rate of success that is more than 95%. This did calm down the nervousness of the partners and brought them to a soothing state of mind. Shelly was then taken for the final eye examination before the actual transplant. However, the basic evaluation was done in Australia as recommended by our expert surgeon. During all this time, the operated donor cornea was stored in a specific solution to preserve. The next morning finally the cornea transplant was performed by the team of experienced doctors under the guidance of the top most eye transplant surgeon of India with utmost precision and expertise. The transplant was successful and it was ensured that there are negligible chances of rejection.
Post-surgery, she was made to stay in the hospital for a couple of days where everything was deeply taken care of, from her medicines to her personal level of comfort. Medications, eye drops, and eye patch were the essentials during post operative care and after a few days when the surgeon was assured that everything is perfect, he discharged Shelly. Garvit collected all the paperwork and prescription for future care. For about a week the couple was in India for a follow-up and thereafter the follow-up continued from miles apart in Australia.
Today, its been 7 months after the surgery and we haven't receive any call regarding any sort of infection, swelling or pain in her eyes. Gradually she has been back to her routine work with the flawlessly replaced cornea and her corrected vision.
With this, one more success stories of India Organ Transplant add to our legacy and take immense pride in the same.
Tags
Eye Transplant Testimonials India, Eye Transplant Patients Reviews India, Patient's Experience at Eye Transplant Hospitals India, Cornea Transplant Reviews India,Eye surgery in India, Low Cost Eye Transplant Surgery in India, Eye Transplant Cost in India, Corneal Transplant Cost in India, Best Eye Hospitals in India for Corneal Transplant, Eye Specialist for Corneal Transplant
---