A Fresh New Life to the Patient Suffering from Bone Marrow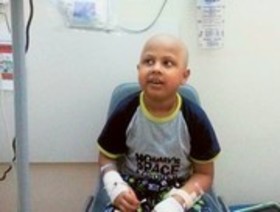 Mohamed Tamim bin Abdullah
(Qatar)
This is a story of distress and pain residing in Qatar. There lived a happy-go-lucky family full of positivity, energy, and sparkle to live life to the fullest. Amidst this beauty of life, one day an entirely peaceful and serene world comes shattering down when their 5-year-old son was diagnosed with a blood disorder known as leukemia. This was November 2013 when their healthy, joyful, and strapping young son was playing in the garden and suddenly became unconscious.They immediately rushed to their family doctor who gave immediate medication and treatment.
Then the mother explained that since past few weeks she was noticing some physical changes in her son like weakness and loss of appetite while her son used to complain about knee pains. Distressingly, we took it as signs of growing age and extra energetic activities.
Following that, various tests were performed, and it was late evening, so they had to wait for the reports until the next morning.It was a sleepless night for the parents seeing their child in pain and discomfort the whole night. Next morning, waiting outside the doctor's cabin, they got a call from the doctor. Reports were in the doctor's hands, and the heartbeats of parents were skipping. Doctor gentle conveyed them that their son was suffering from leukemia and bone marrow transplant was one of the best solutions anyone can ever think of in the medical sphere. All nerves were blocked, and conversations were aching to follow. However, their positivity towards life did not lose hopes, and they tried all possible measures and initiatives to treat their child.
The Tamim bin Abdullah was weak enough and hospitalized for a couple of days. In the meantime, while the mother was taking care of her son, the father visited many doctors and surgeons to get multiple clinical opinions to ease their decision of a perfect treatment. Then one of the renowned child specialists in Qatar recommended him to India Organ transplant for a bone marrow transplant. Now, the question was arising how to be assured of the services far away in India? Even tougher a problem was how to gain confidence and how to stay confident about placing our son in the hands of an unknown doctor. He discussed the same with his friends and relatives but was not able to make a judgment. Then a couple of days later he came across a far away relative with whom he discussed the scenario, and he too had recommended the father in pain to us. He conveyed that one of his friends in Australia had a similar bone marrow transplant in India about three years ago and that too at a very affordable cost. The father then decided to contact the team in India through the numbers provided to him by the doctor. He approached the group there and discussed the case of his son. The executive forwarded the conversation to the other team members who further explained the situation with top doctors and surgeons in India. During further communications, all the medical reports were shared and then a final call was taken for bone marrow. By that time, the father was convinced and satisfied for taking his son to India for the surgery.
The personal coordinator explained the father the entire process and how an identical DNA is required for the transplant. He also told that this is mostly possible with siblings or parents and if not wholly matched then your son has to be registered for the DNA match until a perfect DNA is screened. However, that might take a very long time.
Parents finally took their son to India for a transplant surgery with India Organ Transplant. We made all the travel and stay arrangements for them and guided them with every aspect of reaching us safe and hassle-free. After reaching India, the parents were evaluated for a perfect match, but sadly both the parent's bone marrow did not match his son, and that made them even more distressful and frustrated. We tried to calm them down and explained that one other way is also possible with the Haplo-identical transplant using the father's bone marrow. Within a spurt of a second, they agreed to it without even knowing what the procedure all about was. All they wanted is to save their child and put in even their lives if required for his son, of course, every parent would have the same intention. We took all attempts to explain to them the procedure and made them aware that the haploidentical transplant is a transplant where the donor DNA matches half of the patient's HLA. The father was then pre-screened to ensure that he was physically and mentally fit for donating his bone marrow. Once that was assured, the surgery was performed the next day.
At first, the father was operated followed by the bone marrow transplant of the son. The surgery hours were tough for the parents, but our team was continually boosting them up and assuring that all would be fine. Eventually, the surgery was over with a win-win situation for both the parents and the doctors who performed the transplant. For about four weeks, the son was kept in isolation under expert supervision to avoid all sorts of potential infections. The calm, kind and experienced nurses and doctors took the utmost care with all the follow-up intravenous medications with a flawless post management care. Further, the functionality of other body organs was evaluated and examined to ensure that the transplant was a 100% success.
The son was then discharged after a month, and his parents were smiling with tears to take his son home. We suggested them to stay in India for a few more weeks so that any infection or discomfort that can conveniently be handled without loss of time. They agreed and were there in India for about two months and visited the hospital for regular check-ups and every time the smile that the son used to give us made us feel like heaven.
After returning home in Qatar, they were in constant touch with our team for about two years and last when we had a word from them they were happy to see his son be an active participant in his school basketball team. Thankfully, we could save a life, save a family.
Tags
Bone Marrow Transplant Testimonials India, Bone Marrow Transplant Qatar Patients, Success Rate of Bone Marrow Transplant in India, Bone Marrow Patients Experience India, Qatar Patient's Bone Marrow Transplant Review India, Low Cost Bone Marrow Transplant in India, Average Cost of Bone Marrow Transplant in India, Best Bone Marrow Transplant Doctors in India, Best Bone Marrow Transplant Hospitals Experience India, Top Bone Marrow Transplant Centres in India Testimonials.
---