Showcasing the Impeccable Expertise for Kidney Transplant Surgery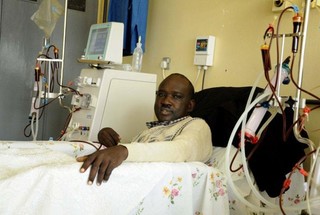 Joy,
(Uganda)
A countless number of kidney transplant surgeries flawlessly accomplished at India Organ Transplant brilliantly reflects our success stories. One such case is of a 50 years old man from landlocked country of Uganda, Joy.Just as the name displays is a man full of life, dynamism, and unending energy. Even at the age of 50, he has the verve and passion to take up the most impossible challenges and enjoys whatever life throws at him with a smile.Joy, He had the same smile and vivacity on his face the day he was diagnosed with chronic kidney disease and was recommended to have a transplant.With his smile we also discovered the beauty of a selfless relationship when his 28 years daughter Sandra voluntary stepped ahead to donate her kidney to her father.
The entire family was out on a vacation for a 7 days trip to Kenya. The first three days were full of fun, loads of happiness, a bit of adventure, and a complete ocean of smiles. The fourth day when Joy woke up and was getting ready for the Safari, he felt slight pain in the chest followed by vomiting. Joy took it very lightly and was off to get ready for the safari. The same repeated after a couple of hours and then for the next two days as well. His family got a bit worried and wanted to return home. However, somehow he convinced them to complete the tour with an assurance that he is perfectly fine. They returned home with lots of beautiful memories mixed with a moment of distress and agony due to ill health. Thereafter there were no signs of any illness so they all considered it an outcome of weather change. Following days and weeks, Joy started to experience loss of appetite, muscle cramps, swelling in the ankles, itchiness, and traces of blood in the urine. This became a serious concern and they consulted their family doctor. The early symptoms of kidney failure are never apparent but with all these symptoms in a nutshell, there was something to be worried. The doctor advised to go for an ultrasound scan, magnetic resonance imaging (MRI) scan, blood test, and urine test. When the reports arrived, it indicated that Joy was experiencing chronic kidney disease and dialysis might not work for him. At that very moment, Sandra and her mother had tears rolling from the edge of their eyes but Joy was sitting calm on the chair with his forever smile.
The doctor advised Joy to get in touch with some kidney specialist or a transplant surgeon for the best treatment. He did pass on some recommendations as well. The three together put all heads and hearts in searching the best doctor for a second opinion and treatment. They discussed the case with all friends and relatives. While hunting they come across a far away relative who recommended them to India Organ Transplant in India. This relative himself has experienced a successful lung transplant surgery through the same medical tourism company in India. Sandra wanted to be very sure so she did an online research about the company and came across several positive reviews and praiseworthy appreciations. She somehow got convinced and contacted the company through mail. She received an immediate response asking to share the reports of her dad. With all the concern and due respect for the quick response she received, Sandra shared all the medical reports with the team at India Organ Transplant. Our team of medical experts deeply scanned all the reports for analysis and the same was further shared with top kidney specialists and hospitals in India. After multiple analysis and recommendations from top transplant surgeons across the country, the conclusion was a kidney transplant surgery. We assigned a coordinator to the case who shared all the facts with Sandra. She further discussed everything with her parents and they took about 20 days to conclude and make up their mind to take a medical trip to India.
All through the time, she was in constant communication with the assigned coordinator who also discussed with her about kidney donation and shared all the essentials concerning the donor and the recipient. The coordinator explained Sandra that a kidney donor that can be a living person or deceased. He also clarified that although a non-relative can be a donor but most often, it is advisable to have a kidney from a voluntary donor from your family like parents, siblings, grandparents and spouse falling in the age group of 18 to 60 years and with a compatible blood group. It is also important that the donor should be free of health ailments like hypertension, diabetes, hepatitis, and immunodeficiency virus infection. The most significant aspect of being a donor is that both the kidneys should be in optimal working conditions. After this communication with the coordinator, the next morning she discussed the same within the family. Sandra was confused because her mother was a diabetic patient and she could not think of anyone else who could donate. With a sudden thrust, she stood up and said, "I'll donate my kidney to my loving dad". This might be the first moment when Sandra and her mother saw a tear tricking down Joy's eyes. For hours, there was silence in the house. Sandra quietly moved out and got her blood test to check the compatibility of her blood group. She waited in the diagnostic center until evening to collect her report. Her blood group was matching with her father and she got adamant to stick to her decision. She returned home and slept without uttering a word.
Next morning Sandra contacted us to know the process further and understand the entire process. Everything was clearly explained and communicated, even the cost of the treatment. By this time, her level of comfort and trust with the team of India Organ Transplant was at a rise. On advising by the coordinator, she shared her and her parent's passport. Our team assisted to get the medical visa to India and after they shared the flight ticket with us, we made all the arrangements for travel and accommodation. All through the time, Joy had become a silent and helpless spectator whereas Sandra's mother was purposely quiet because she had no choice.
On arrival to India, the three were warmly welcomed at the airport and were taken to the hospital after a quick freshen up at the hotel. They had a personal consultation with the top most kidney transplant surgeon in India who was about to perform the surgery. As recommended both Joy and Sandra were put on a 15 days pre-evaluation test. The doctor assessed the recipient for physical, psychological, and anatomic fitness with a series of radiology and blood tests. Furthermore, the doctor assessed and evaluated the donor for individual kidney function and sustainability of her kidney as a donor through a series of radioisotope renogram, computed tomography, angiography, and tissue typing.
After the evaluation, the surgery was performed on the prescribed date and time under the guidance of one of the top kidney transplant surgeons along with his team of talented doctors, medical professionals, and nurses. Both the surgeries had to go simultaneously because the life of a kidney without blood supply is only 5 to 10 minutes. While Sandra was being operated, the abdominal cavity of Joy was being prepared for the transplant. Immediately after extracting the kidney from Sandra's body, the doctor placed the kidney within the abdominal cavity prepared in Joy with constant checking and verifying for optimal placement. Simultaneously the surgical team was making the sutures for Sandra to complete the surgery with 100% effectiveness. In the mean time, the doctor was working on Joy to connect the ureter, arteries, and veins to the transplanted kidney with an assurance that the kidney is functioning flawlessly. Thereafter the sutures were made and the transplant was complete.
Joy and Sandra were then shifted to care units for personal care where the nurses too good care for the next three days. Sandra was discharged with no further medications and complications. However, Joy's stay at the hospital was extended for two day to ensure the effectiveness of the transplanted kidney. On the day of discharge, Joy was asked to follow a course of medication and strict diet for a couple of weeks and a follow-up through phone calls. The family stayed there for about a week after the surgery so that any complications can be taken care, as Joy's wife was alone. After a week, she was happy taking her husband and full of pride taking her daughter back home in the best of their health. Our coordinator went to drop them at the airport and bid them a compassionate goodbye with a wish to stay healthy and happy.
It has been a privilege to greet them and treat them with the best of our knowledge, expertise, and medical care. We still remember Sandra's last words in a soft and slow tone, when she left the hospital after postoperative care, "Thank You Team India Organ Transplant". Today, it's been a year and both Joy and Sandra are living a healthy life following their routine lifestyle.
Tags
kidney transplant surgery, kidney transplant surgery testimonial India, kidney transplant surgery, Uganda kidney transplant patient reviews India, Uganda kidney transplant patient in India, kidney transplant success rates India, best hospitals for kidney transplant in India, top 10 kidney transplant hospitals India