Satisfying Patients Trust for Liver Transplant Surgery in India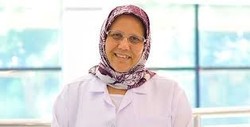 Fatima
(Saudi Arabia)
Miles apart, the land of Saudi Arabia reveals a live testimony to our success story with all our initiatives to leverage the power of medical care with a 100% successful liver transplant surgery.At times, life takes a drastic turn and leaves us speechless in a state of shock. The same happened to the entire family of a 55-year old lady Fatima diagnosed with cirrhosis of the liver. Fatima is a joyful, amiable, and a positive woman who is no stranger to adversities. Nevertheless, life is not always the same. Amidst the journey from adversities to a peaceful living, the going became unpleasant when one fine day Fatima got sick experiencing nausea and vomiting. The symptoms persisted for several days following additional symptoms of joint swelling, dark stool, shortness of breath, loss of appetite, and gastrointestinal bleeding.
It is then when her husband Dabir, aged 62 years, and son Shoaib, aged 30 years, took her to a general physician who recommended few blood tests and prescribed her certain medications to get relief from the experiencing symptoms. Shockingly two days later when the medical reports came, it disclosed that Fatima was suffering from liver cirrhosis. The treating physician there advised the family to consult a good liver surgeon. Everyone in the family was stunned and brought them to a stage of shock and trauma.
Both Dabir and Shoaib started browsing the web and exploring options for best liver transplant providers across the globe. While researching on the web, Shoaib came across our website and read all the reviews and patient testimonials for a better insight into our medical tourism company. He found it impressive and shared his suggestions and beliefs with his father. They both came to a common conclusion and Shoaib contacted us through the online enquiry form. With an immediate response, our coordinator asked Shoaib to share the reports of the patient. Shoaib mailed all the reports along with the prescription of the treating physician. Our team of surgery experts further reviewed the reports and the same further shared with top hospitals and top liver transplant surgeons of India for their respective clinical opinion and recommendation.
We then reverted with a mail stating multiple recommendations in response to Fatima's medical condition. Dabir, Shoaib, and Shoaib's wife then discussed and scrutinized all the options while Shoaib in constant communication with us. The family decided to opt for Dr Mohammed Rela from BGS Global Hospital in Chennai, a name that reflects in the Guinness Book of World Records for displaying his level of expertise on liver transplantation surgery performed on a 5-day-old baby. Today Dr Rela is one of the top liver transplant surgeons in India with more than 4000 liver transplant surgeries successfully accomplished so far. Dabir and Shoaib both were convinced with this piece of information available over the web while there were confirming their decision to choose Dr Rela for treating Fatima. We handed over all the reports and documents to Dr Rela for his personal study and analysis.
Now, the biggest concern was getting a perfect match because the transplant is possible only from a blood relative. Any blood relative or a family member falling in the age group of 18-55 or in the weight range of 50-85 along with a matching blood group is eligible for liver donation. With these technicalities, Dabir was out of the question for a surgery because he was a senior citizen. Now, the only person left for immediate evaluation was Fatima's son aged 30 years. At first, Fatima was adamant for not allowing Shoaib to be the living door with an emotional uncertainty of the effect. Lots of discussions and arguments took place within the family but all in vain. Against Fatima's wishes, Shoaib wanted to be the donor for giving a second chance to the precious life of his mother, if he holds the eligibility. Our coordinator then advised him for a blood test as suggested by Dr Rela to verify his eligibility for being a living donor for his mother. He got the blood test done and shared the report with our team. Thankfully, the blood group did match.
Further to that, the three members of the family, Fatima, Dabir, and Shoaib were asked to share their passport so that we can proceed ahead accordingly. We assisted them to attain the medical visa to India and then made all possible travel and hotel arrangements for their visit to India. On arrival to India, one of our travel coordinators received them at the airport and dropped at the hotel. In accordance to the mentioned time, in the evening the travel coordinator went to receive them at the hotel and brought them for consultation with Dr Rela. Even at that stage, Fatima was displaying her unwillingness to put her son's health in jeopardy and accept him to be her donor. Then our team of transplant experts reassured her about the minimal effects while explaining the liver's unique capability of regenerations or regrowth. Not completely, but to a certain extent, she got convinced. However, she had no say and was just powerless before his son's fortitude.
The doctor further recommended pre-transplant evaluation for the next 15 days for both the donor and the patient while preparing for all the legal documents concerning transplantation and organ donation. During the pre-evaluation phase, the physical and mental state of both is analyzed and verified. Finally, after 15 days when all the reports were clear, the two underwent the surgery by the expert hands of Dr Rela at the BGS Global Hospital in Chennai. Shoaib was operated and after a couple of hours, Fatima was placed on the operation table. All through the surgery, Dabir was standing helpless but with constant assurance by the team that both Fatima and Soeb will be fine. The staff assured with a welcoming and compassionate approach that everything will fall in place.
The surgery was successfully accomplished and both admitted to an intensive care unit in a conscious state of mind for post-operative management. They were there for 4 weeks after the surgery and were later discharged with summary report displaying a clear instruction of precautionary measures, medicines to be taken, and follow-up through phone or email.
Fatima is today leading an independent life today. Talking about Shoaib, he is leading a completely normal life with optimized body functioning and added level of zeal and enthusiasm. He is contented with the way in which India Organ Transplant handled her mother's medical case and himself
India organ Transplant is there to satisfy your trust for best yet affordable cost of liver transplant in India. We work with patients based on their medical needs and requirements for travel with an assurance to provide 100% satisfaction at the time of discharge and at par excellence in living a high-quality life ahead.
Tags
Liver Transplant Surgery Testimonials India, Liver Transplant Patients Review India, Liver Transplant Patient's Testimonial India, Patient's Experience Liver Transplant Surgery India, Saudi Arabia Patient's Liver Transplant Surgery, Best Liver Transplant Surgeons in India, Top 12 Liver Transplant Surgeons in India, Best Hospitals for Liver Transplant in India
---