Max Healthcare Hospital Dr Subhash Gupta Liver Transplant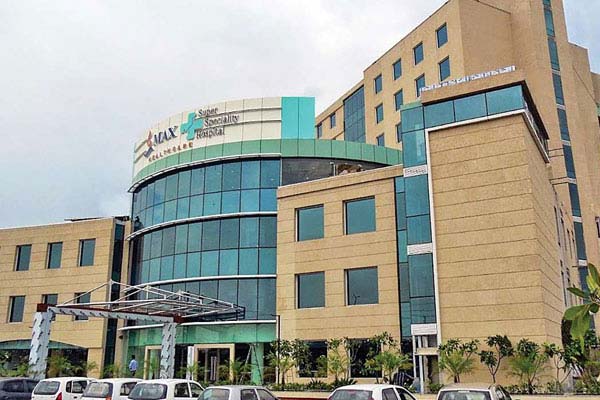 Max Centre for Liver and Biliary Sciences New Delhi led by Dr Subhash Gupta is amongst a busiest Liver Transplant Centre in India. Liver Transplant in India at Max Healthcare Hospital, Delhi include treating all stages of liver disease such as guidance for prevention, drug therapy for viral hepatitis, management and rehabilitation of alcoholic liver disease and liver cancer (HCC).
Request Dr. Subhash Gupta Appointment at Max Healthcare Hospital by filling up the free consultation form given on the website.
The Centre for Liver and Biliary Sciences (CLBS) at Max Super Speciality Hospital, Saket, New Delhi is one of the largest liver transplant centres in the world. This group of hospitals is one of the foremost team that established liver transplantation in South Asia. With a team of 200 members, 20 years of experience, 2000+ transplants, Max Centre for Liver and Biliary Sciences at Max Super Specialty Hospital, Saket is the new destination for Living Related Liver Transplants. Our team ensures that our patients receive the highest standard of patient safety during and post-surgery by providing round the clock care and best in class post-surgery follow-up. Request an appointment for affordable Liver Transplant Cost in Max Hospital with the Liver Transplant Surgeons in Max Hospital, Delhi by contacting us.
We have developed a highly successful low Cost of Liver Transplant in Max Healthcare Hospital, India with consistently good results and have had the opportunity to serve patients from over 20 countries due to many innovations in operative techniques. The Best Liver Transplant Specialists in India at Max Healthcare Hospital shares their experience with the rest of the world and also learns from the masters to strengthen areas where they feel needs improvement. Send your query to know the Max Liver Transplant Cost in India and get assistance scheduling appointment with the Liver Transplant Specialists in Max Healthcare Hospital, Gurgaon.
MAX HEALTHCARE HOSPITAL CLINICAL TEAM
Prof. (Dr.) Subhash Gupta – Chairman - Liver and Biliary Sciences at Max Super Speciality Hospital, Saket
Has worked with reputed healthcare centers like Indraprastha Apollo Hospitals, Sir Ganga Ram Hospital, Queen Elizabeth Medical Centre at Birmingham, etc.
Has finished his education and training from the highly recognized AIIMS
Has pioneered the growth of Living Donor Liver Transplant in India
Widely recognized for successfully performing more than 300 Living Donor Liver Transplant at the Centre for Liver and Biliary Sciences at the Indraprastha Apollo Hospital
He and his team has facilitated the development of many Liver Transplant centres in India and abroad as well
Dr. Shaleen Aggarwal – Associate Director at Max Super Speciality Hospital, Saket
MBBS (Medical School Graduation) - Institute of Medical Sciences, Banaras Hindu University, Varanasi, India
MS (General Surgery Residency) - Institute of Medical Sciences, Banaras Hindu University, Varanasi, India
MCh (Fellowship in Surgical Gastroenterology) - Sanjay Gandhi Post Graduate Institute of Medical Sciences, Lucknow, India
ASTS Solid Organ Transplant Fellowship - University of Rochester Medical Center, Rochester, NY, USA
Areas of speciality are Liver Transplantation: Immune Tolerance in Liver Transplant and HPB Surgery: Proteomics of Hepatocellular Cancer
Also, he plays a very significant role in managing the critical care issues of patients in the early postoperative period post transplant
Dr. Shweta Singh – Associate Director and Head Anaesthesia at Max Super Speciality, Saket
MBBS - King George's Medical College, Lucknow
MD - GSVM Medical College, Kanpur
Trained in Liver Transplant Anaesthesia and Critical Care at King's College Liver ITU and Department of Anaesthesiology at King's College, London
Initiated the transplant programme at the Institute for Liver and Biliary Sciences (ILBS) and also performed the first Liver Transplant there
Set up the ILBS Transplant Anaesthesia protocol and pre and post transplant management protocol for both recipient and donor
Dr. Mohd Abdun Nayeem – Senior Consultant – Max Centre for Liver and Biliary Sciences at Max Super Speciality Hospital, Saket
MBBS - Osmania Medical Institute, NTR University of Health Sciences, A.P
ECFMG certified 1999(USA)
M.S - PGIMER, Chandigarh
MRCS - Royal College of Surgeons, England
M.Ch - GI Surgery, GB Pant, Delhi University
Senior Fellow - Liver Transplantation, Medanta, Medicity
Has more than 7 years of experience and specializes in Liver Transplant procedure and ensures the best for his patients
Dr. Raja Sekhar – Consultant Max - Centre for Liver and Biliary Sciences at Max Super Speciality Hospital, Saket
MBBS (Bachelor of Medicine & Surgery)
M.S (Master of Surgery)
PDCC (Post Doctoral Certificate Course in Surgical Gastroenterology)
D.N.B (Diplomat in National Board) in Surgical Gastroenterology
Has worked as a Consultant in Liver Transplant and HPB Surgery with reputes centres like Indraprastha Apollo Hospitals and Apollo Hospitals at Jubilee Hills
Has more than 5 years of experience with expertise as a Liver Transplant Specialist and Surgical Gastroenterologist
Dr. N. Selva Kumar – Consultant and Surgical Gastroenterologist
Centre for Liver Transplant and Biliary Sciences, at Max Super Speciality Hospital, Saket
MBBS – Tanjore Medical College
MS (General Surgery) – Madurai Medical College, Dr. MGR Medical University
DNB (GI Surgery) – Army Hospital (R & R), Delhi
Has more than 6 years of experience in this field
Has worked with extremely reputed centres like Indraprastha Apollo Hospitals, Rajiv Gandhi Cancer Institute, and many more
Dr. Nivedita Pandey – Consultant
Centre for Liver Transplant and Biliary Sciences, at Max Super Speciality Hospital, Saket
MBBS – Maulana Azad Medical College
MD – State University of New York, Upstate Medical Center, Syracuse, New York. USA
Fellowship in Gastroenterology and Hepatology – State University of New York, Upstate Medical Centre, Syracuse, New York, USA
Has more than 6 years of experience in this field and specializes in Liver Transplant, Liver diseases, Inflammatory Bowel Diseases, Motility Disorders
Dr. Sharat Varma – Consultant
Paediatric Hepatology at Max Super Speciality Hospital, Saket; Max Super Speciality Hospital, Patparganj; Max Super Speciality Hospital, Mohali and Max Smart Super Speciality Hospital, Saket
PhD in Transplant Immunology and Liver Fibrosis from Université Catholique de Louvain, Belgium
Fellow and Board Certification in Transplant Hepatology Medicine from European Board of Transplant Medicine and Surgery, Europe
Fellowship in Paediatric Gastroenterology and Hepatology from Clinique's Universitaires Saint Luc, Belgium
Post-doctoral Fellowship in Paediatric Gastroenterology and Hepatology from Indian Academy of Paediatrics
Diplomete National Board in Paediatrics from National Board of Examinations
M.B.B.S. from L.L.R.M Medical College
Is highly knowledgeable and has vast experience in curing children with Liver Diseases – genetic or acquired – and Liver Transplant
Has done extensive research and handled projects in Genetic Liver Diseases, Fibrosis and Liver Stem Cell Transplantation
He is proficient in doing Endoscopic procedures and Liver Biopsies
Dr. Rajesh Dey – Associate Consultant
Centre for Liver Transplant and Biliary Sciences, at Max Super Speciality Hospital, Saket
MBBS from Medical College Calcutta, University of Calcutta (2000)
MS (General Surgery) from IPGMER & SSKM Hospital, University of Calcutta (2006)
MRCS from Royal College of Surgeons of England (2008)
Master in Hepato Biliary Surgery from Henri Bismuth Hepato Biliary Institute, Paris
Experience in clinical skills – General, Hepatobiliary, Pancreatic Surgery and Transplantation – organ retrieval and implantation
Immense experience in management, leadership and research with highly recognized hospitals
Tags
Liver Transplant in India at Max Healthcare Hospital Delhi, Liver Transplant Cost in Max Hospital, Max Centre for Liver and Biliary Sciences New Delhi, Dr. Subhash Gupta Appointment at Max Healthcare Hospital, Liver Transplant Surgeons in Max Hospital Delhi, Liver Transplant Specialists in Max Healthcare Hospital Gurgaon, Best Liver Transplant Specialists in India at Max Healthcare Hospital, Max Liver Transplant Cost in India, Cost of Liver Transplant in Max Healthcare Hospital India