Medanta Hospital Dr Soin Liver Transplant India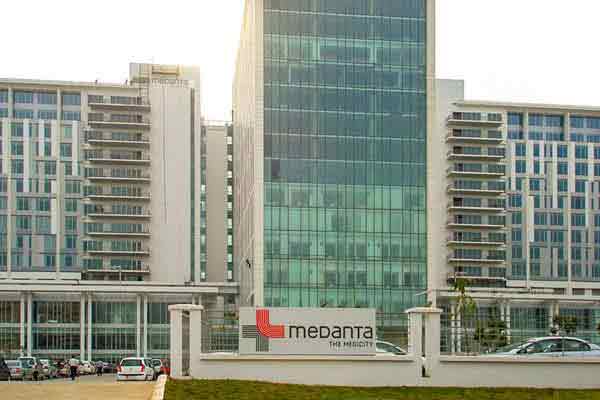 Medanta is built with a primary focus on delivering state-of-the-art, most progressive yet cost effective healthcare to people all around the world. No doubt that it has evolved a lot over the years, but the values still remain the same. Medanta is one of the most advanced medical institutions totally committed to bring the best outcomes in every endeavour.
This hospital is armed with highly specialized techniques and cutting edge technology to deal with the most complicated health condition with utmost proficiency and accuracy. Liver Transplant in Medanta Hospital is performed by the highly qualified team of liver specialists using the latest technology that ensures best possible care for a wide spectrum of liver diseases. Fill up the enquiry form to schedule appointment for Affordable Cost of Liver Transplant in Medanta.
Specifically, when it comes to Liver Transplantation, The Medanta Institute of Liver Transplantation and Regenerative Medicine is Asia's first of its kind committed Institute offering Liver Transplantation and all other levels of treatment for Liver and Biliary diseases including cancer, both in adults and children.
Living Donor Liver Transplant program is the leading in India and second largest in the world with a team of Medanta Liver Specialists in India who are enormously qualified and talented with a rich experience of more than 2,500 Liver Transplants, having brought up the programme from its commencement. This particular program has accomplished the highest success rates – 95 percent – and lowest infection rates that is less than 10 percent in Liver Transplant. Send us your query to know the Liver Transplant Cost in Medanta Medicity Gurgaon.
Medanta Liver Transplant Cost in India is highly affordable to the patients. The Institute is also a high-volume referral centre for every type of Liver Tumours, Bile Duct Cancer, Cysts and blocks and all complex non-transplant Liver and Biliary surgery. Read Medanta Liver Transplant Reviews and contact us to get appointment with Dr. A. S. Soin Hepatobiliary and Liver Transplant Surgeon in India Gurugram, Haryana.
MEDANTA MEDICITY CLINICAL TEAM
Dr. Arvinder Singh Soin – Chairman of the Liver Transplantation and Regenerative Medicine
Department of Medanta Hospital, Gurgaon
MBBS, AIIMS, New Delhi
MS, AIIMS, New Delhi
FRCS, Royal College of Surgeons, Edinburgh
FRCS, Royal College of Physicians and Surgeons of Glasgow, U.K
Has almost 30 years of experience, his areas of expertise are Liver Cancer, Liver Transplant, Cirrhosis, Bile Duct cancer, Gall Bladder Cancer, Biliary stricture, Liver Cyst, Liver Metastases and Biliary Atresia
Has performed over 1500 liver transplants and over 12000 other complex liver, gall bladder and bile duct surgeries
Has been awarded 'The Padma Shri' by the President of India for developing a comprehensive Liver transplant programme in India
Dr. Sanjiv Saigal – Director and Hepatologist
At Medanta Hospital, Gurgaon
MBBS, 1989, Royal College of Physicians, London
MD, 1994, Institute of Medical Education and Research
MAMS, 2010, Royal College of Physicians, London
MRCP, 1999, Royal College of Physicians, London
DM, 1998, G.B Pant University of Agri & Tech.,
DNB, 1996, National Borad of Examinations Ministry of Health Government of India
Experience of about 22 years and has performed 1500 liver transplants, including both cadaveric and living donor liver transplants
Highly proficient in Liver Transplantation (Transplant Hepatology), Acute Liver Failure, Viral Hepatitis, Alcoholic Liver Disease, Liver Cancer and Drug Induced Liver Disease
Received numerous awards including the Calcutta University Gold Medal, National Pfizer award, INLAKS Fellowship in liver transplantation in King's College Hospital, London etc.
Dr. Amit Nath Rastogi – Senior Consultant
Institute of Liver Transplantation and Regenerative Medicine at Medanta – the Medicity, Gurgaon
DNB (General Surgery) – National Board of Examination
MS (General Surgery) – Institute of Medical Sciences, BHU, Varanasi
MBBS – Institute of Medical Sciences, BHU, Varanasi
Fellowship in Liver Transplant Surgery from Sir Ganga Ram Hospital, New Delhi
Has received training in Robotic Liver surgery at IRCAD -Strasbourg, France and advanced Robotic HPB training at Grosseto, Italy
Has rich experience in Surgical Gastroenterology (GI Surgery) and Liver Transplantation with various recognized institutes of India
His areas of specialization and expertise include Living Donor Liver Transplantation, Robotic and Minimally Invasive Hepatobiliary Surgery and Complex Hepatobiliary procedures
Dr. Prashant Vilas Bhangui – Senior Consultant
Institute of Liver Transplantation and Regenerative Medicine at Medanta – the Medicity, Gurgaon
Masters in Hepatobiliary and Pancreatic Surgery - Henri Bismuth Hepatobiliary Institute, Villejuif, France
European Inter University Diploma in Hepato-Biliary-Pancreatic Cancers: Oncosurgical Strategies – Universite Paris X, France
MS (General Surgery) – Goa Medical College
MBBS – Goa Medical College
Prashant's areas of special interest include Hepatocellular Carcinoma Colorectal Liver metastases and Living Donor Liver Transplantation
Highly specialized and proficient in Liver Transplantation, Hepatobiliary Surgery, Hepatocellular Carcinoma management, Management of Colorectal Liver Metastases
His key areas of research include molecular markers and newer therapies in management of Hepatocellular Carcinoma and Colorectal Liver Metastases
Dr. Sanjay Kumar Goja – Senior Consultant
Institute of Liver Transplantation and Regenerative Medicine at Medanta – the Medicity, Gurgaon
MS (General Surgery) – Pt. Bhagwat Dayal Sharma PGIMS, Rohtak
MBBS – Pt. J.N.M Medical College, Raipur
Areas of specialization are Liver Transplantation and Robotic Hepatectomy
Has worked with many of the reputed hospitals of India
Dr. Thiagarajan Srinivasan – Consultant
Institute of Liver Transplantation and Regenerative Medicine at Medanta – the Medicity, Gurgaon
DNB (Gastrointestinal Surgery) – NBE, Sri Ganga Ram Hospital
MS (General Surgery) – PGIMER, Chandigarh
MBBS – Thanjavur Medical College
Areas of expertise are Liver Transplantation and Gastrointestinal Surgery
Has performed more than 220 recipient Hepatectomies and 190 live donor Hepatectomies independently and 15 Cadeveric Liver retrievals
Dr. Neelam Mohan – Director
Paediatric Gastroenterology & Hepatology Institute of Digestive and Hepatobiliary Sciences at Medanta - the Medicity
Has a vast experience of 21 years; first doctor in India to start Therapeutic Endoscopy work for infants
MBBS – Osmania Medical College, Osmania University Hyderabad
DNB – Diplomat of National Board of Paediatrics, National Board Examinations, Delhi
Fellowship in Gastroenterology and Hepatology – AIIMS, Delhi
Fellowship in Gastroenterology – Hepatology and Nutrition, Birmingham Children's Hospital, Birmingham, UK
Recognized nationally and internationally, her areas of specialization are Liver Transplantation, Pancreatitis, Hepatitis B and C, Paediatric and Adolescent Hepatology
Tags
Liver Transplant in Medanta Hospital, Cost of Liver Transplant in Medanta, Medanta Liver Transplant Cost in India, Medanta Liver Transplant Reviews, Dr. A. S. Soin Hepatobiliary and Liver Transplant Surgeon in India Gurugram Haryana, Medanta Liver Specialists in India, Liver Transplant Cost in Medanta Medicity Gurgaon