Gleneagles Global Hospital Dr Mohammed Rela Liver Transplant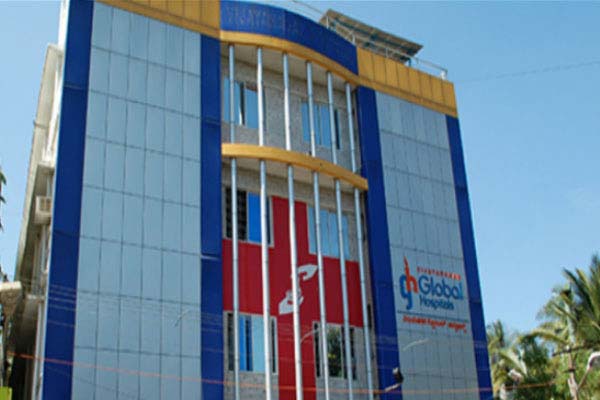 Gleneagles Global Hospitals believes in a strong, dedicated yet ethical concept of healthcare. The Liver Transplant in India at Gleneagles Global Hospitals has the best liver transplant surgeons offering excellent liver transplant care. Send us your enquiry to know the Global Hospital Liver Transplant Cost in India.
Under able guidance of the Gleneagles Global Hospitals Liver Transplant Surgeons in India, an outstanding team of Liver Specialists, which includes Hepatologists, Transplant Surgeons, Transplant Anaesthesiologists, Transplant Nurses, Physiotherapist and Transplant Coordinators, the Institute of Liver Transplant in Chennai Gleneagles Global Health City Chennai, Tamil Nadu has attained brilliance in liver care and liver transplantation. Contact us to know the Cost of Liver Transplant at Gleneagles Global Hospitals.
The centre for Liver Transplant in Chennai Global Hospitals has a totally focused and devoted division for liver and pancreatic care. Also, it is highly reputed for being one of the world's most comprehensive, multidisciplinary disease-management centres. Different types of Liver Transplantations are provided, depending on and detailed evaluation of the condition of the patient. Fill up the enquiry form to know the Global Hospitals Chennai Liver Transplant Cost with Dr. Mohamed Rela Liver Transplant in India, world's best liver transplant surgeon.
Liver Transplant Global Hospital Chennai, Mumbai & Hyderabad are among the best liver transplant hospitals in India with the best surgeons in India renowned for providing excellent liver transplant care. Being the pioneer of the liver transplant program in the country, Global Hospitals Chennai Liver Transplant Cost is most affordable. Employing the best liver transplant doctors in India, Gleneagles Global Hospitals delivers the best liver failure treatment, liver transplant surgery and post-transplant care. The quality of the liver transplant surgery is evidenced by the number of top liver transplant specialists in India that work at our peerless institution. Request an appointment with Gleneagles Global Hospitals Best Liver Transplant Doctors in Chennai by sending us your query here.
GLENEAGLES GLOBAL HOSPITAL CLINICAL TEAM
Dr. Balbir Singh – Senior Consultant
HPB and Liver Surgery at Gleneagles Global Hospitals, Lakdi-Ka-Pul, Hyderabad
MBBS from S.N. Medical College, Agra
S (General Surgery) from S.N. Medical College, Agra
FAIS (Fellow Association of Surgeons of India)
FICS (Fellow International College of Surgeons)
FICLS (Fellow Indian College of Laparoscopic Surgery)
Trained The King Liver Disease Course -Institute of Liver Studies, King College Hospital, London, UK
Areas of expertise are Liver Transplant, Laparoscopic Surgery, Management of Acute Liver Failure and Liver ICU care
Dr. Manoj V. Shrivastav – Consultant
HPB & Liver Surgery at Gleneagles Global Hospitals, Lakdi-Ka-Pul, Hyderabad
MBBS, DNB (General Surg.), Fellow in Liver Tx.,
More than 8 years of experience in this field
Dr. Mohammad Rela
Head of the Department for Institute of Liver, Pancreas diseases and Transplantation at Global Hospitals & Health City Group, Chennai
Highly recognized for his proficiency on Liver Transplantation, Hepatopancreatobiliary
B.B.S, Stanley Medical College, University of Madras, India
MS, University of Madras, India
FRCS, Royal College of Surgeons of Edinburgh
Has his name in the Guiness Book of World Records for doing a successful Liver Transplantation for a five-day-old girl
Has special interest in Whipple procedure (also known as Pancreaticoduodenectomy) with PVR (Portal Vein Resection) which is usually done for patients with Pancreatic Cancer either in locally advanced stage or advanced stage. He has written a number of scientific articles and papers on his areas of interests which include Liver transplantation, Complex Hepatobiliary, Pancreatic surgery and more.
Dr. Mettu Srinivas Reddy – Senior Consultant
HPB & Liver Surgery at Gleneagles Global Health City, Perumbakkam, Chennai
MBBS, JIPMER, Pondicherry
MS, PGIMER,Chandigarh
DNB
FRCS, Edinburgh, UK
A Chronic Liver Specialist with about 16 years of experience
Areas of expertise are Hepato-Pancreatico-Biliary Surgery and Organ Transplantation
Dr. Kota Venugopal – Senior Consultant
HPB and Liver Surgery at Gleneagles Global Health City, Perumbakkam, Chennai
MKCG Medical College, Berhampur,
MS and Senior Residency from JIPMER, Pondicherry
FRCS from Edinburgh, UK
Has more than a decade of experience in Laparoscopic, Hepatobiliary and Pancreatic surgery and Liver Transplantation
Associated with the Liver transplant programme of Global Hospitals group since its inception
Special areas of interest are treatment of Liver and Biliary injuries, complex Liver and Pancreatic resections and liver donor surgeries
Dr. Gomathy Narasimhan – Senior Consultant
HPB and Liver Surgery at Gleneagles Global Health City, Perumbakkam, Chennai
MS (General Surgery) from Madras Medical College
ASTS (American Society of Transplant Surgery)
Fellowship in Abdominal Organ Transplantation (Liver, Kidney, Pancreas) from Baylor University Medical Center, Dallas, USA
Fellowship – American certified Transplant Surgery Fellowship Baylor University, USA
Living donor Liver transplant training form Kumamoto and Kyoto University, Japan
About 10 years of experience Liver and Kidney transplant surgery and has participated in about 450 Liver transplant and 750 Kidney transplant patients
Specialities are Liver Transplant and Hepatobiliary surgery; expert in Renal Sparing Immunosuppression and Portal and Hepatic Hemodynamics in Liver Transplantation
Dr. Rajesh Rajalingam – Consultant
HPB and Liver Surgery at Gleneagles Global Health City, Perumbakkam, Chennai
PDF ( Liver Transplantation) under Dr. M.G.R Medical university
MBBS in Tirunelveli Medical college
MS in JIPMER, Puducherry
Completed super-specialization (MCh) in Gastrointestinal/ HPB surgery at GB Pant hospital, New Delhi
Has a decade long experience; Clinical and Research interests include Hilar Cholangiocarcinoma, Major liver resections, Portal hypertension, Budd Chiari syndrome, Neuro endocrine tumours, Liver regeneration, Role of vascular resections in HPB tumours, Paediatric Liver transplantation
Dr Kumar Palaniappan – Consultant
HPB and Liver Surgery at Gleneagles Global Health City, Perumbakkam, Chennai
MBBS, DNB (GI), Fellowship in HPB and Liver Transplantation Surgery from Medanta, Gurgaon
Training in HPB and Liver Transplant Surgery at Asan Medical Centre, Seoul
Has a decade long surgical experience
Clinical and Research interests include Liver Transplantation, Laparoscopic liver resection mainly minimal invasive donor Hepatectomy and Laparoscopic Pancreatic surgery, Portal Haemodynamics, Laparoscopic liver surgery
Dr. Guruprasad Shetty – Consultant
HPB and Liver Surgery at Gleneagles Global Health City, Perumbakkam, Chennai
MBBS, MS (General Surgery), DNB (Surgical Gastroenterology)
Fellowship in HPB and Liver Transplantation Surgery from St. Marys Hospital, Catholic University of Korea
Fellowship in HPB and Liver Transplantation Surgery from Medanta – the Medicity, Gurgaon
Has more than 10 years of rich experience and has worked with some of the reputed institutes in India and abroad
Dr. Ashwin Rammohan – Consultant
HPB and Liver Surgery at Gleneagles Global Health City, Perumbakkam, Chennai
MRCSEd, MRCSGlasg, DNB, MNAMS, D.Chir (Fr.), FRCSGlasg, MCh. (GE)
Current clinical and Research interests include Surgery of the Liver, and Living Donor Transplantation, Transplant Immunobiology and Translational research into Liver Tolerogenicity
Dr. Rajanikanth Patcha V
At Gleneagles Global Health City, Perumbakkam, Chennai
MS, MRCS, HRCS,DIP LAP, FEBS (Liver Tx), FEBS (HPB)
A reputed Liver transplant Specialist with more than 5 years of experience
Dr. Taher Mobin Ahmed Shaikh – Consultant
HPB and Liver Surgery at Gleneagles Global Health City, Perumbakkam, Chennai
MBBS, MS, FDCS, MRCS
Fellowship in Liver Transplant and HPB Surgery from University of Hongkong
A Liver Transplant Specialist with several years of rich experience; has cured several patients with complex Liver diseases
Dr. Raghavendra C V - Consultant Hepatopancreatobiliary and Multi-organ Transplant Surgeon
at Gleneagles Global Hospitals, Kengeri, Bengaluru
MS (General Surgery)
DNB ( Surgical Gastroenterology)
Fellowship in Hepatopancreatobiliary and Multi-organ Transplantation
Super-specialization in Surgical Gastroenterology from Calcutta Medical Research Institute, Kolkata
Gold medallist from Karnataka Chapter of Association of Surgeons of India
His areas of interests are HPB G.I Oncology, Living donor liver transplantation, Laparoscopic HPB surgery and Paediatric transplantation
Has great expertise in surgical management of complex HPB cases, including complex Liver and Pancreatic Tumors, Laparoscopic HPB, optimization of seriously sick liver patients with high MELD (Model of End-stage Liver Disease) score, Safe Donor Haepatectomy for living donor liver transplantation and Complex Biliary tumours
Dr. Suresh Raghavaiah – Consultant HPB and Multi-organ Transplant Surgeon
With the Global Integrated Liver Care Unit (GILC) at Gleneagles Global Hospitals, Kengeri, Bengaluru
MS Fellowship in Minimally Invasive, HPB Surgery (L'IMM, Paris)
Post Doc Transplant Immunology (Mayo clinic, USA)
ASTS Multi-organ Transplant Fellowship (Mayo Clinic, USA)
Highly specialized in transplantation of patients with antibodies against their donors, including blood group incompatible and positive cross-match transplantation
His areas of surgical interests include Liver, Pancreas and Kidney transplantation, surgeries for Liver and Pancreatic Cancer (both open and laparoscopic), surgeries for cancer of the bile duct and correction of bile-duct injuries, and complex vascular surgeries for portal hypertension
Dr. Ravi Mohanka - Chief Surgeon and Head
Department of Liver Transplant and Hepato-Biliary Surgery at Global Hospitals, Parel, Mumbai
MBBS – Government Medical College and Hospital, Nagpur
MS (General Surgery) – Government Medical College and Hospital, Nagpur
DNB (General Surgery) – National Board of Examinations (NBE), New Delhi
United States Medical Licensing Examination (USMLE) - Educational Commission for Foreign Medical Graduates (ECFMG), Philadelphia, PA
ASTS fellowship in abdominal organ transplantation – Thomas E Starzl Transplantation Institute, University of Pittsburgh Medical Centre, Pittsburgh, PA
His areas of expertise and current practice include living donor and deceased donor (cadaveric) Liver Transplantation, Hepato-biliary surgeries in adults and children including liver resections (including laparoscopic and robotic) for Hepato-cellular Cancer (HCC) and Peri-hilar Cholangiocarcinoma amongst others, Pancreas transplantation, Intestinal and multi-visceral transplantation
Dr. Prashantha Rao - Consultant
HPB and Liver Surgery at Global Hospitals, Parel, Mumbai
Bachelor of Medicine and Bachelor of Surgery (M.B.B.S.): Maulana Azad Medical College, University of Delhi, New Delhi, India
Master of Surgery (General Surgery): Maulana Azad Medical College, University of Delhi, New Delhi, India
DNB (Surgical Gastroenterology): Sir Ganga Ram Hospital, New Delhi, India
Liver Transplant Fellowship: Sir Ganga Ram Hospital, New Delhi, India
Area of Specialization are Surgical Gastroenterology, GI and HPB Oncology and Liver Transplantation
Also performs complicated surgical resections for Liver, Gall Bladder and Pancreatic Cancer and surgeries for portal hypertension
Tags
Liver Transplant in India at Gleneagles Global Hospitals, Global Hospital Liver Transplant Cost in India, Cost of Liver Transplant at Gleneagles Global Hospitals, Dr. Mohamed Rela Liver Transplant in India, Institute of liver transplant in Chennai Gleneagles Global Health City Chennai Tamil Nadu, Liver Transplant in Chennai Global Hospitals, Global Hospitals Chennai Liver Transplant Cost, Gleneagles Global Hospitals Liver Transplant Surgeons in India, Gleneagles Global Hospitals Best Liver Transplant Doctors in Chennai, Liver Transplant Global Hospital Chennai, Liver Transplant Global Hospital Mumbai, Liver Transplant Global Hospital Hyderabad