Blk Super Speciality Hospital Dr Amit Chaudhary Heart Transplant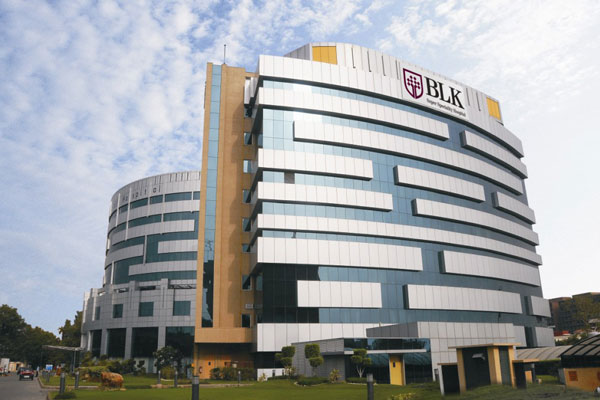 This is one of the best and most advanced tertiary care hospitals in India offering state-of-the-art healthcare infrastructure to numerous patients. One of the best parts of BLK Super Speciality Hospital is the BLK Heart Centre that was conceived to provide highly progressive Cardiac services such as Heart Transplant in India at BLK Super Specialty in Delhi, India to the worldwide patients.
This centre is extremely reputed for doing pioneering level of in the field of Total Arterial Grafting, Minimally Invasive Cardiac Surgery, Coronary Bypass Surgery, Complex Congenital Cardiac Surgery, Interventional Cardiac procedures of all kinds - from Electrophysiology and Coronary Angioplasty to Interventions for correction of congenital anomalies and Surgery for Aneurysm including Endovascular and Hybrid procedures. Contact us to get BLK Hospital Appointment for Heart Transplant in India from the Best Heart Transplant Surgeons in BLK Super Specialty Hospital, Delhi.
The BLK Hospital Children's Heart Institute in Delhi offers Diagnostic, Interventional Pediatric Cardiac Services, Non-Invasive services, Neonatal Cardiac Services, Specialised Pediatric Services and a Special Single Ventricle Program for children with heart disease. Send your query to know more about the Cost of Heart Transplant in India at BLK Super Specialty Hospital, Delhi.
Further, there is an array of services available ranging from diagnostic non-invasive services, nuclear scans, and CT imaging, all accessible under one roof. Not only this, services related to Interventional Cardiology, Interventional Radiology and Neuro Interventional services and a wide span of Cardiac surgery and Vascular surgery services make this centre a one-stop answer for Cardiac patients with the best-in-class treatment. Also there are most modern treatment techniques like Cardiac Resynchronization Therapy (CRT), Implantable Cardioverter Defibrillator (ICD), Heart Pumps, Heart Transplantation, BLK Heart Failure Clinic and other sub-disciplines of Cardiac cure like Clinical and Critical Cardiology, Non-invasive Cardiology, Interventional Cardiology, Electrophysiology and Arrhythmia Services, Cardiothoracic and Vascular Surgery. Request an appointment with Dr. Amit Chaudhary Best Heart Transplant Surgeon at BLK Hospital in Delhi by contacting us. Fill up the enquiry form to know the Heart Transplant cost at BLK Super Specialty Hospital in India.
BLK SUPER SPECIALTY CLINICAL TEAM
Dr. Ajay Kaul – Chairman & HOD, Cardiothoracic and Vascular Surgery (CTVS) at BLK Super Speciality Hospital, Delhi
MBBS, MS (General Surgery), M.ch. (Cardiothoracic Surgery)
Has a rich experience of more than 15,000 Cardiac operations
Stringently trained to perform Heart Transplants and Ventricular Assist Devices\
Also, can proficiently perform Total Arterial Coronary Bypass surgery, Paediatric Cardiac surgery, Valve Repairs, surgery for Aneurysm and surgery for Cardiac Failure
Has enormous experience of performing one of the largest numbers that is more than 4000 cases of Total Arterial Coronary Bypass surgery, using two internal mammary arteries from the chest, with no cuts on the legs and arms
Dr. Sushant Srivastava – Senior Consultant & Director at Heart Transplant Surgeon, CTVS at BLK Super Speciality Hospital, Delhi
MBBS
MS (General Surgery)
MCh. (CTVS) - AIIMS
Training in ventricular assist devices at Philadelphia, USA
Has a total experience of performing 9,000 cases
Performs CABGs, Valve Repairs and Replacements and complex Congenital Heart Diseases with utmost ease
Performed the first 'awake' CABG north of Delhi
His areas of expertise are Endovascular therapy for Aortic Aneurysms, Aortic Aneurysm Surgery and Hybrid Procedures, Surgery for Congenital Heart Defects, Re-Do Valve and Bypass surgery, Complex Peripheral Vascular and Limb Salvage Surgery
Dr. Sanjeev Gera – Senior Consultant – Cardiology and Head – Non-invasive Cardiology
MBBS, MD (Medicine), DNB (Cardiology)
Some of the areas of his expertise include Non-invasive Cardiology (Adult & Paediatric Heart Disorder), Critical Care Cardiology, Structural Heart Disease (Valvular Heart Disease), Interventional Cardiology, End-Stage Heart Failure Management, Heart Transplant, Angiogram, Aortobifemoral Bypass for Peripheral Arterial Disease, Cardiac Rehabilitation, Arthrectomy
Dr. Amit Chaudhary – Consultant, Cardiac and Heart Transplant Surgeon
More than 11 years of experience
MBBS - GSVM Medical College, Kanpur
MS (General Surgery) - King George Medical College, Lucknow
Fellowship in Peads Surg Alder Hey at Liverpool, UK
Ch (Cardiology & Cardiac Surgery) - Sanjay Gandhi Postgraduate Institute, Lucknow
As a Cardiac and Heart Transplant Surgeon CABG with valve repair/replacement, CABG with Carotid Endarterectomy, CABG in octogenarians and patients with co-morbidities like renal failure, Dialysis dependent, previous stroke, obstructive & restrictive pulmonary disease, Mitral Valve Repair/ Replacement, Aortic Valve Surgeries, Minimally Invasive Valve Surgery, Minimally Invasive Valve Surgery, and much more
Tags
Heart Transplant in India at BLK Super Specialty in Delhi, India,Best Heart Transplant Surgeons in BLK Super Specialty Hospital, Delhi,Heart Transplant cost at BLK Super Specialty Hospital in India,BLK Hospital Appointment for Heart Transplant in India,BLK Hospital Children's Heart Institute in Delhi,Dr. Amit Chaudhary Best Heart Transplant Surgeon at BLK Hospital in Delhi,Cost of Heart Transplant in India at BLK Super Specialty Hospital, Delhi